Indiana Motorcycle Accident Injury Attorneys
Motorcycle accidents are common due to the unique physics, dynamics, and size of the motorcycle itself. Accidents commonly result from a car driver's inability or failure to observe the presence of a motorcyclist. Regardless of the cause of the accident, dealing with serious injury, lost property, wages, and hardship associated with a motorcycle crash can be enough stress without also engaging in a legal battle. The Indiana motorcycle accident lawyers at Indiana Personal Injury Attorney are here for you.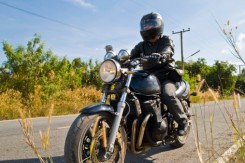 However, sometimes a legal battle is unable to be avoided after an auto accident. Many insurance companies aren't willing to payout fair compensation, as they are a for-profit business dedicated to maximizing their profits. When you are already dealing with everything associated with your collision and resulting injuries, adding the complexity of dealing with a motorcycle accident injury lawsuit should be the last of your worries.
At Indiana Personal Injury Attorney, we are experienced motorcycle accident injury attorneys. We are dedicated to not only educating drivers and bikers alike, he is also dedicated to relieving you from the burden of fighting your own legal battles. We handle every aspect of your motorcycle accident injury claim, providing comprehensive analysis, compassionate support, and aggressive representation.
Call Indiana Personal Injury Attorney at (317) 792-8799 for a Free Consultation!
Accidents Due to Negligence
Our Indiana motor vehicle injury attorneys represent your best interests when you have been the victim of an injury due to a car accident in Indiana caused by the negligence of someone else.
Indiana Personal Injury Attorney understands that motorcycle crashes can be devastating to both the injured party and their family, and can cause long-term physical and emotional trauma. That is why we provide comprehensive legal support to accident victims and injured motorcyclists. Our motorcycle accident lawyers diligently examine every detail of the accident scene to determine the exact course of events, who was at fault as defined by Indiana motorcycle laws, and the compensation you can rightfully expect to receive as a result of your hardship.
Most motorcycle accidents involve some level of negligence by another driver. However, there can be road maintenance issues or unsafe road conditions, or even faulty parts or mechanics, that can contribute to a motorcycle crash. Whether your accident was caused by negligent behavior by another driver, a government entity, or a corporation, we will aggressively fight to get you the justice you deserve through a personal injury claim.
Common causes of motorcycle accidents involving negligence include:
Tailgating the motorcyclist, or following too closely
Failure to yield the right of way to the rider
Attempting to pass the biker too closely or even "share" a lane
Deliberate taking action to intimidate or scare the motorcyclist
If your accident was caused by any of these behaviors, you may be eligible for compensation for damages through injury accident claims, including:
Medical bills and expenses (past and future)
Lost wages and impact on future employment
Permanent Scarring and disfigurement
Spousal or familial loss of consortium for injury or wrongful death
Physical and emotional pain and suffering
Mental anguish
Punitive damages for malicious conduct
The Indiana motorcycle accident attorneys atIndiana Personal Injury Attorney are ready to aggressively represent you against individuals, corporations, or other entities as we fight for your rightful compensation. Our powerhouse team of personal injury attorneys support you in obtaining a favorable resolution in a speedy manner for motorcycle accident injuries, truck accident injuries, car accident injuries, and more, relieving you of the stress of dealing with a complex legal matter on top of your injuries. Let a qualified Indiana bike accident lawyer lessen the burden for you.
Let's Talk Now- Free Consultation
Not all automobile accident injury attorneys in Indiana are created equal. At Indiana Personal Injury Attorney, we are real motorcycle riders who are truly passionate about motorcycle safety and protecting the interests of motorcycle accident victims. If you are ever thinking "I wish I could find the best motorcycle accident injury attorney near me," look no further than the Indiana bike injury attorneys at Indiana Personal Injury Attorney.
Indiana Personal Injury Attorney is an experienced, motivated, and dedicated motorcycle accident injury law firm, committed to getting you the compensation you deserve from your accident injuries. You can't afford to wait.
Call Indiana Personal Injury Attorney today at (317) 792-8799 your Free Consultation with our Motorcycle Accident Injury Attorney!